Welcome to the AuthoredUp platform!
Here's the good news: even without our browser extension, you can still utilize 80% of our features directly on the platform.
Dive into this guide to harness the full potential of AuthoredUp, regardless of whether you have the extension or not.
What can you do on the platform?
Accessing the Full AuthoredUp Editor
Preview Posts: Visualize how your content will look once published.
Hooks, Endings, and Snippets: Craft compelling beginnings with our hooks, create robust conclusions with our endings, and use snippets for efficient content creation.
Add Formatting: Bold, italics, bullet points, and more – style your post for maximum impact.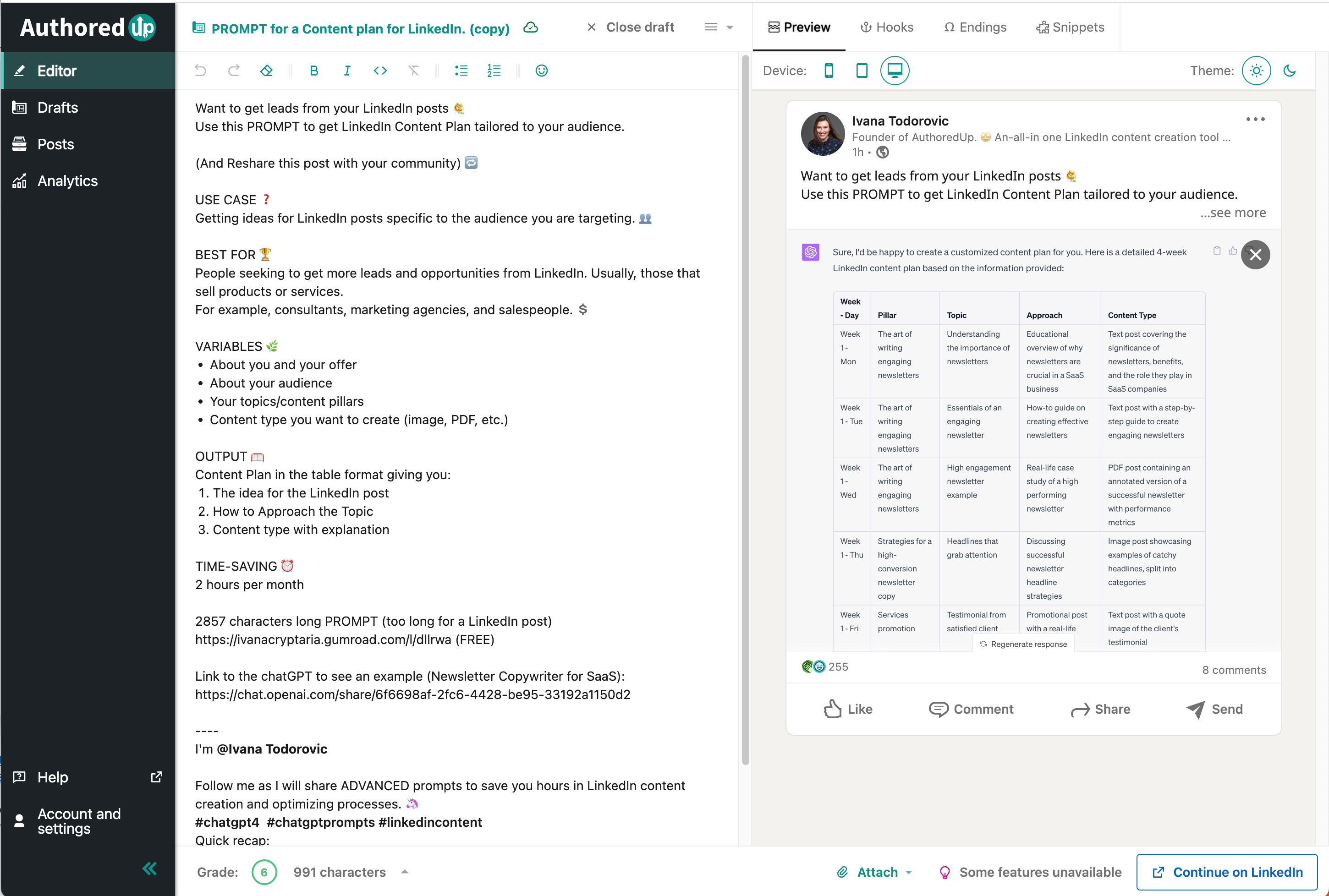 Creating and Managing Drafts
Start a New Draft: Click on "New Draft" to begin writing a new post.
Edit Existing Drafts: Go to your "Drafts" section, select the one you want to modify, and make the necessary changes.
Sync with Extension: Any draft you save on the platform will automatically sync with the AuthoredUp extension and vice versa.
Accessing Content Analytics and Published Posts
View all analytics data for your content and published LinkedIn posts.
Access your content table.
Remember, you need first to collect this data via the AuthoredUp extension.
Limitations of the AuthoredUp platform
Our platform editor, while powerful, doesn't directly connect to your LinkedIn account. This means:
You can't tag profiles (individual or company pages)
No autocomplete for hashtags or suggestions.
Attachments cannot be added (images only)
You can't publish or schedule posts directly from the platform.
For these specific LinkedIn-centric features, you must connect to the LinkedIn editor or paste the text to LinkedIn.
On top of this, you can't collect LinkedIn content analytics; just access existing data.
Transitioning to the LinkedIn Editor
Clicking the "Continue on LinkedIn" button activates the AuthoredUp extension in blue mode, granting full feature access. This lets you seamlessly transfer content to LinkedIn for additional functionalities.
Extended Use for LinkedIn
You can also create content for:
Bio section.
"About Me" segment.
Personal messages.
Comments.
After drafting, manually copy and paste your text into the respective LinkedIn sections.
Managing Multiple Profiles
For those juggling multiple LinkedIn profiles, perhaps ghostwriters or content managers:
AuthoredUp allows you to connect and manage multiple LinkedIn accounts.
Switch between profiles seamlessly within the platform and keep content organized per account.
Frequently Asked Questions (FAQs)
What if my extension-access computer is unavailable?
You can draft and edit on the AuthoredUp platform regardless. Manually transfer your text to LinkedIn afterwards.
Can I oversee different LinkedIn accounts concurrently?
Absolutely! AuthoredUp is designed for multi-profile management, catering to social media managers, ghostwriters and others.
How do drafts sync with the extension?
Drafts auto-sync between the AuthoredUp platform and the extension. Ensure both versions are updated for smooth syncing.