NOTICE: Since the publication of this article, AuthoredUp has launched, and the beta period has concluded.
The rest of the article is preserved as it was when it was written.
---
After a full year of free beta, it is time to prepare for the official launch of AuthoredUp on August 14th 2023.
Whether you've been with us from the start or have just joined, this article provides a clear roadmap for the upcoming changes.
Enjoying the Beta Phase Until August 14th
Until August 14th, we're continuing the final phase of our beta testing.
You still have complete, unrestricted access to every feature of AuthoredUp, completely free.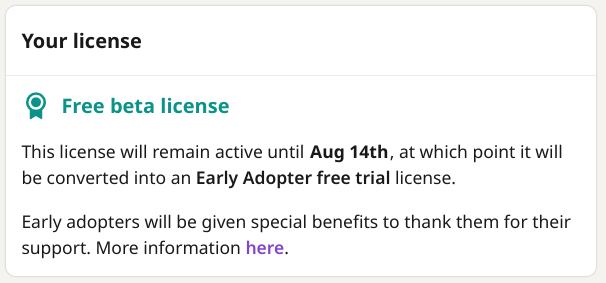 We might roll out bug fixes and minor updates based on your feedback.
Transitioning to Our Official Launch
Stage 1: August 7th - Introducing Business Accounts
We're rolling out Business accounts for those who manage teams or multiple profiles, such as agencies and social media managers.
This feature allows for seamless management and assignment of LinkedIn profiles.
Want a deep dive? Check out our guides on how to manage your organization and how to invite team members.
In this stage, we will also change our Terms of Use to fit the new circumstances.
Stage 2: August 14th Full Release
As we move to the full launch of AuthoredUp on August 14th, we'll introduce a pricing model:
For individual users, the price will be $19.95 per month.
For businesses (3+ profiles), it's $14.95 per month per seat.
Both plans come with a 14-day free trial and the option for two months off on annual plans.
The Early Adopter Deal: An Exclusive Offer 🌟
In gratitude for your support during our beta phase, we offer all BETA users a special early adopter deal.
On August 14th, your beta license will automatically convert into a double-length 30-day free trial.
You will also be offered special monthly discounted prices:
$14.95 / month for individual users
$11.95 / month per seat for business accounts (3+ members).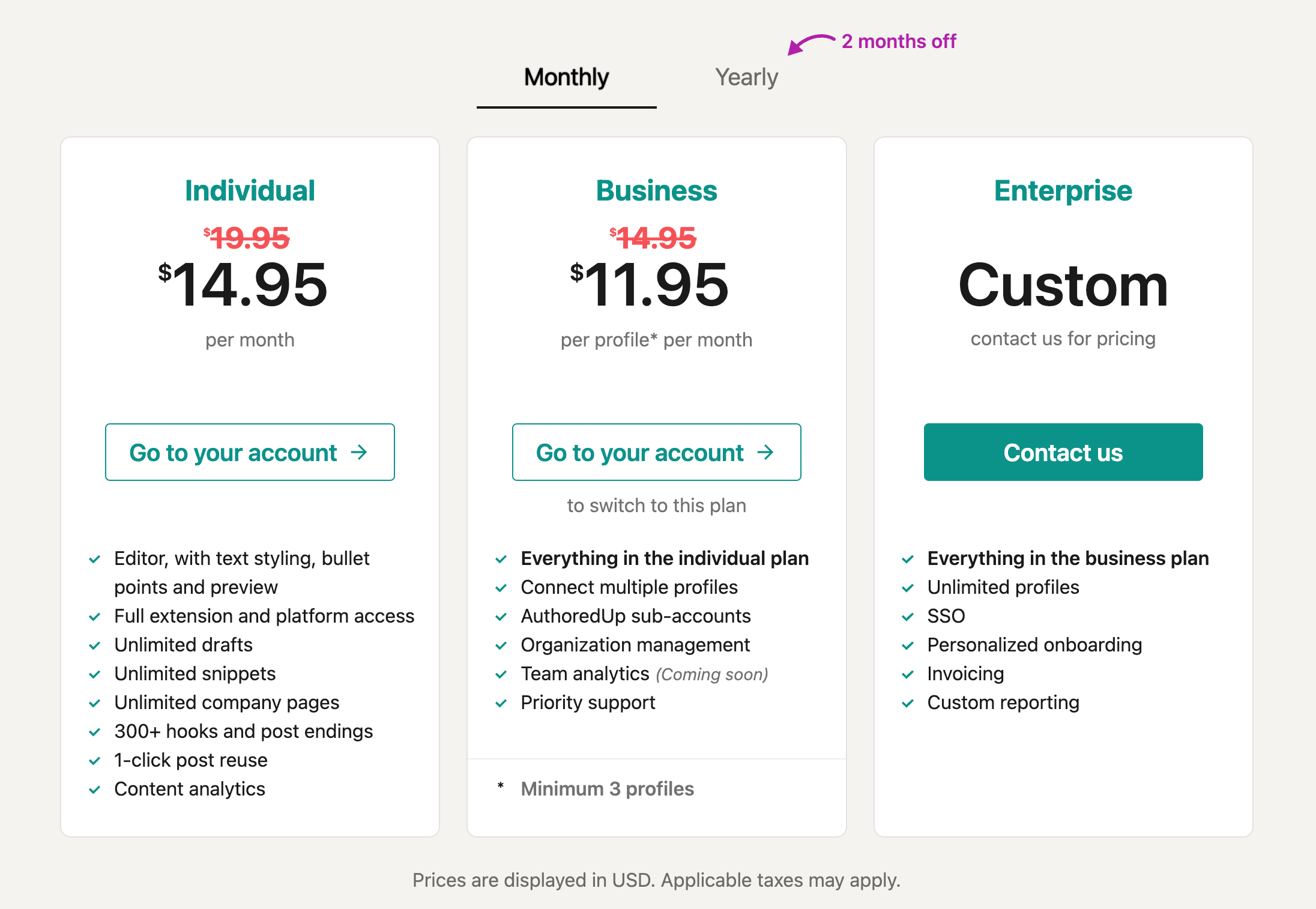 Opt for our annual subscription, and you'll get two months on us!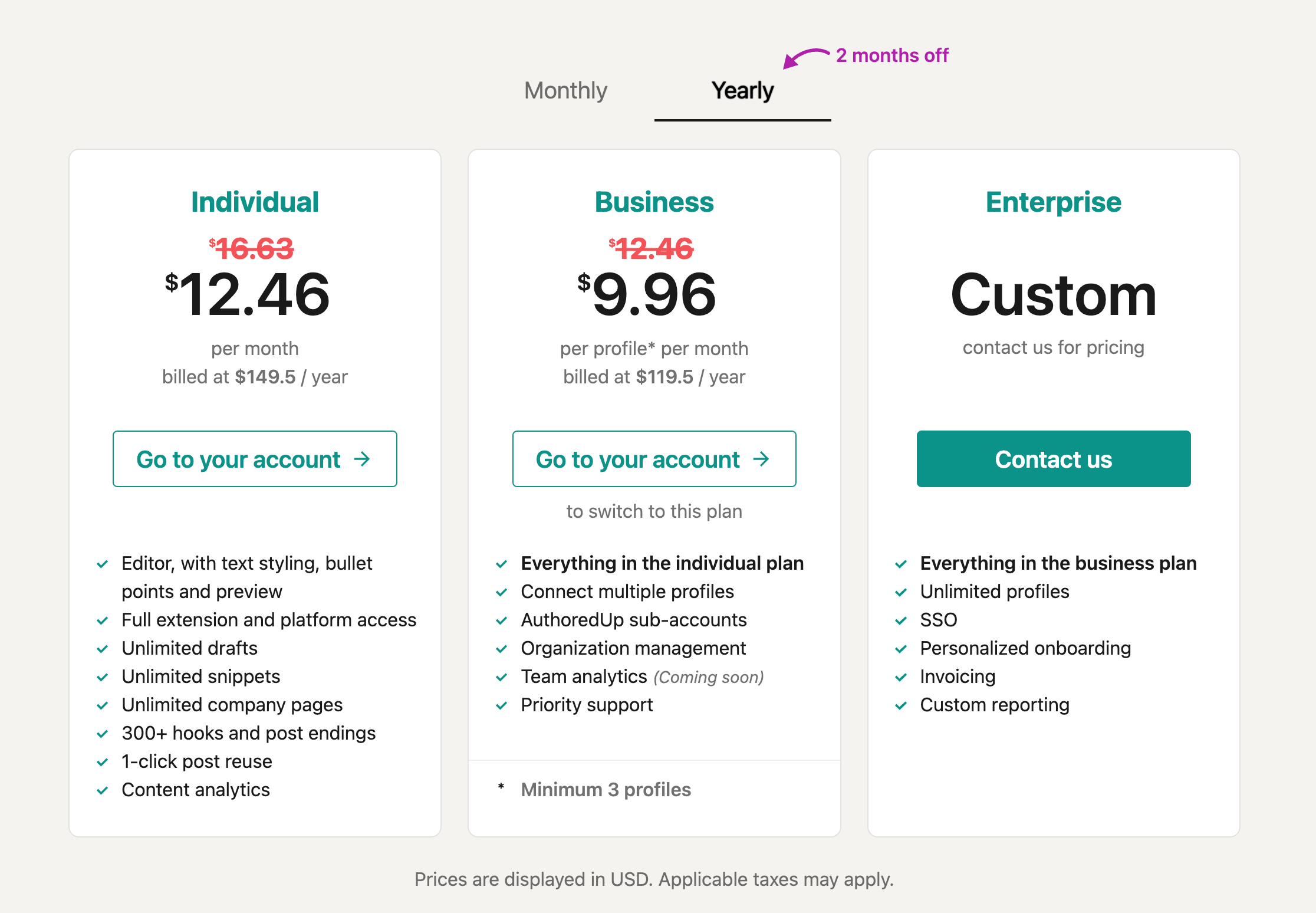 These rates will be permanently grandfathered in. That means your subscription cost won't increase in the future, even if we adjust the prices. You'll also get two months off if you opt for an annual plan.
Who is Eligible for the Early Adopter Deal?
This deal is open to anyone who joins the AuthoredUp beta before August 14th. It's our way of thanking you for trusting our product at such an early stage.
So, if you know anyone who might benefit from AuthoredUp, invite them over before the 14th!
Peek Into The Future of AuthoredUp
As we continue to grow and evolve, we're excited to share what's coming next.
Boosted Features from August 14th:
LinkedIn Pages Analytics: Dive deep into content performance metrics and insights.
Tracking 'Repost with Your Thoughts' Posts: Monitor and measure the reach of your reshared content.
On Our Radar (coming soon):
Affiliate Partnerships: We are developing a partnership program with one of the best incentives out there.
Enhanced Team Analytics & CSV Exports: Make data-driven decisions with improved analytics and data exports.
ISO27001 Standard Compliance: We're amping up our commitment to data security and compliance.
You can stay updated on our Roadmap page.
Thank you for your continued support as we transition into this exciting new phase of AuthoredUp.
Stay tuned for more updates as we count down to the official launch. ⏳